Are You Interested In Investing In Precious Metals?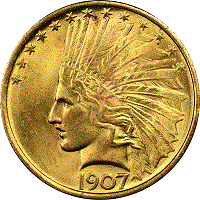 If you are interested in adding precious metals to your investment portfolio, we can provide silver, gold, and platinum bullion coins and bars without the expenses, hassles, and worry of shipping - just come by our Roswell location to see our inventory.
Gold
We will typically have American Gold Eagle coins in several sizes/denominations: 1 ounce gold ($50 face value), 1/2 ounce ($25), 1/4 ounce ($10), and 1/10 ounce ($5). The Gold Eagle coins were first produced by the U.S. Mint in 1986 and have composition 91.67% gold, 5.33% copper, and 3.00% silver.
A variety of foreign gold bullion coins are also typically available, including the South African Krugerrand, the Canadian Maple Leaf, the Austrian Philharmonic, and the Chinese Panda. Most of these coins are minted in 1 ounce and fractional sizes (1/2 ounce, 1/4 ounce, 1/10 ounce, and 1/20 ounce). Occasionally we will also have privately-minted gold bars of size 1 ounce or less.
Silver
Silver is available in three main forms: one-ounce government-issued bullion coins such as the American Silver Eagle and the Canadian Silver Maple Leaf; privately-minted bars of various sizes (mostly 1 ounce, but 1/2 ounce, 2 ounce, 5 ounce, 10 ounce, 50 ounce, or 100 ounce sizes may also be available), and 90% silver pre-1965 U.S. dimes, quarters, and half dollars.
Platinum and other Precious Metals
We will usually have platinum coins (most commonly the American Platinum Eagle) in 1 ounce or fractional sizes, as well as coins composed of other precious or semi-precious metals (palladium, niobium, etc.). These are not always available, so please call to inquire about availability.
Pricing
Note: subject to change! "Spot" refers to the current "spot price", the price at which precious metals are trading on the international markets. Like (for example) the Dow Jones Industrial Average, the spot price changes constantly while the markets are open. Please see the charts on our website for the current spot prices.
Gold
American Eagle (1oz) = Spot + $80
American Eagle (1/2oz and 1/4 oz) = Spot + 10%
American Eagle (1/10oz) = Spot + 15%
South African Krugerrand = Spot + $65
Canadian Maple Leaf = Spot + $65
Chinese Panda = Spot + $65
Austrian Philharmonic = Spot + $65
Privately-minted 1oz gold bar = Spot + $50
Silver
American Eagle = Spot + $3.50
Foreign silver (Canadian Maple Leaf, Mexican Libertad, etc) = Spot + $2.50
Privately-minted silver bars or rounds = Spot + $1.50
Privately-minted 100oz bars = Spot + $1.25 (per ounce)
Payment
Payment with cash or debit card is preferred; credit cards are acceptable up to $500 limit. Checks must be certified bank checks from a legitimate bank.